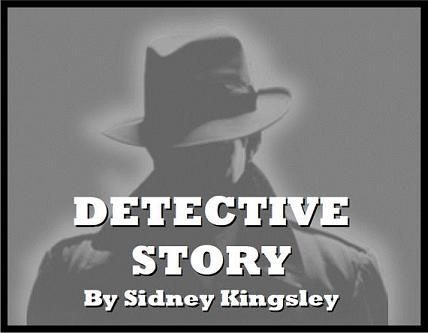 Proceeds to benefit the WorkShop Theater Company
Special Matching Grant Opportunity!
$50 - Premium seating (incl. $35 tax-deductible donation)*
$30 - General seating (incl. $15 tax-deductible donation)*
Tickets available at the door.
To reserve "will-call" tickets at the door, please call 212-595-0084.
Convenience fees apply with online purchases.
Before Dragnet, Hawaii Five-O and Law & Order, there was the original crime drama: DETECTIVE STORY.
Relive the chilling fable of James McLeod, New York City police detective and self-proclaimed judge and jury - until fate caught up with him...
...in a special staged reading to benefit the WorkShop Theater Company, with WorkShop company actors and colleagues - featuring Ellen Dolan (As The World Turns).
The 1949 Broadway cast was headed by Ralph Bellamy as Detective Jim McLeod, with Meg Mundy as Mary McLeod, and James Westerfield as Detective Lou Brody. It won the Edgar Allen Poe Award for Drama that year.
Detective Story was brought to the silver screen in 1951, in a noir film adapted and produced by William Wyler - starring Kirk Douglas, Eleanor Powell and William Bendix. It was nominated for four Academy Awards.
* Thanks to a special matching grant, the WorkShop will receive an additional $1 for every $3 donated (up to the first $30,000 raised through 11/25 of this year).
Cast:
CK Allen
Ellen Barry
Dan Patrick Brady
David Copeland
Ellen Dolan
Burt Edwards
Peter Farrell
Liz Forst
Stephen Girasuolo
Ken Glickfeld
Richard Kent Green
Mark Hofmaier
Bob Manus
David Mead
Sandy Moore
Natalie Mosco
Patricia O'Connell
Wende O'Reilly
Jonathan Pereira
Amanda Sayle
Linda Segal Crawley
Paul Singleton
Bill Tatum
Matt Walker