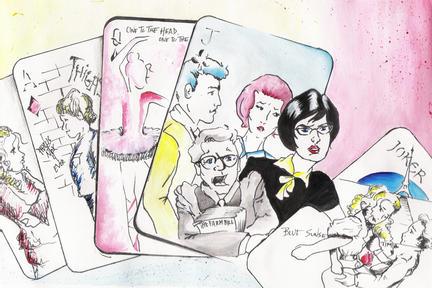 An evening of one-acts about people who play their lives close to the vest. In Gary Giovannetti's American Thighs, a woman looks back on her first love: how it began, how it ended and what became of the boy she once knew; Michael Lazan's Blue Sunset in Timisoara tells of secret passions revealing themselves in public places; in The Farm Bill by Susan Dworkin, the political and personal collide and legislation isn't the only thing anyone is trying to hide, and in Ken Jaworowski's One to the Head, One to the Heart, a couple shares with the audience things they may never be able to share with each other.
---
AMERICAN THIGHS
by Gary Giovannetti
directed by Manfred Bormann
It's 2007. Do you know where your first love is?
---
BLUE SUNSET IN TIMISOARA
by Michael Lazan
directed by David Gautschy
How much romance is enough? How much is too much?
---
THE FARM BILL
(WILL NOT BE PRESENTED THE SECOND WEEK, APRIL 18, 19, 20 nor 21)
by Susan Dworkin
directed by Ahvi Spindell
Think you know something about government? Meet the down-home folksy folks who really run Washington!
---
ONE TO THE HEAD, ONE TO THE HEART
by Ken Jaworowski
directed by Thomas Cote
When it comes to your family, what do you really want? Are you sure?
Cast:
Denny Bess*
Jeffrey Danneman*
Jed Dickson*
Lori Faiella*
Leslie Gwyn*
John Jimerson*
Tanya Marten*
Shelley McPherson*
Peter Stoll*
Nicole Taylor*
*Member, AEA