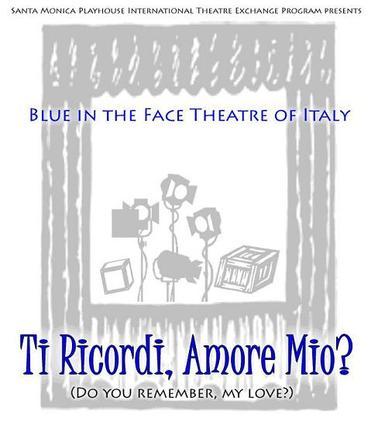 A group of explorers finds find what they believe to be an abandoned building. Wandering among the rooms, they eventually find a stage and, on that stage, meet an old man who starts telling them a story.
It is a story about love, about life. But it is a dismantled, reviewed love...like a promise to be maintained like a dream not yet begun. A story looking for a beginning but not finding (and it probably doesn't want to) an end. "But," as playwright Enrico Maria Falconi says "if you start listening or living a story, you must be sure you want to know how the story ends..."
The play will be performed in the original Italian, with a pre-show synopsis provided in English.
---
After an acclaimed run at the Santa Monica Playhouse, Italy's Blue in the Face Theatre Company was scheduled to make its New York Premiere this week with its production of company founder Enrico Maria Falconi's poetic new play "Ti Ricordi, Amore Mio? (Do you remember, my love?)." While en route from California, they discovered that their performance venue had fallen through. Upon hearing of the renowned international company's production being made homeless, the staff of Off-Off-Broadway's WorkShop Theater Company immediately invited Blue in the Face to perform "Ti Ricordi, Amore Mio? (Do you remember, my love?)" in their intimate Jewel Box Theater at absolutely no charge.
---
Blue in the Face Theatre Company (www.BlueInTheFace.net) was founded in 2003 in Civitavecchia (Rome) by Enrico Maria Falconi. Blue in the Face looks at theatre as a form of ethic-Art which centers on the idea of recitation as a personal strong tool for growth. The Company motto "We live in dreams, like others, only that we live our own" is the testimony of an art-conception as a "sweet revolution" of the way to do culture.
Since 2005 the company has offered training courses for actors, directors, make-up artists, lighting designers, art directors, and Web designers of all ages. During 2008 the company's cultural promotion has seen a strong increase, besides an acting-training program; a new youth initiative: Blue In the Face Exp; it has pursued collaboration as cultural exchanges with public and private theatrical societies such as Blackbox, Liverpool, England; Santa Fe Playhouse, New Mexico; and the Artistic Specialist of the Cirque Du Soleil, Las Vegas. "Ti ricordi, Amore mio?" celebrated its American premiere on June 12 at the Santa Monica Playhouse in California and was its third exchange with them.
Cast:
Benedetto Baldini, Silvia Crocchianti, Barbara De Paolis, Enrico Maria Falconi, Emiliano Giammaria. Maria Dolores Mogovero, Attilio Monti, Daniele Petroselli, Daniele Reali, Valentina Simola, Lavinia Trotti, Fabio Trunfio, and Gino Vannicola
Lights and music by Angela Donetti and Giordano Bonifazi