By:
Christopher Logue - Adapted for the Stage by Jim Milton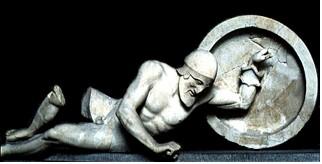 In The Main Stage Theater
A revival of the American premiere of KINGS, British poet/playwright Christopher Logue's ferocious modern adaptation of the first books of Homer's ILIAD.
Presented in association with
Less a translation than a vivid re-imagining, KINGS moves with cinematic speed to create full-blooded and haunting portraits of the great figures of Trojan War. The mythic clashes of heroes and gods evoke the battles of Stalingrad and Normandy through Logue's stark contemporary verse, which has been hailed as "beautifully rhythmic, controlled and urgent" (The Independent) and which has earned him the Whitbread Prize. KINGS has previously played on the BBC, at the Tricycle and the Royal National Theatres in London, and as part of the Edinburgh Festival, and is now receiving a revival of its 2001 American premiere.
"KINGS aggressively turns the listener into a co-creator. Zeus, Hera, Agamemnon, Priam, Achilles, Hector, Odysseus and many others spring to life in the voices of two actors... Seeing and hearing them is a profoundly… exciting experience… When the angry debates of gods and men end and the soldiers, we hear, "moved out and fell in love with war again," our hearts ache." - D. J. R. Bruckner, N.Y. Times