By:
Greg Oliver Bodine /Adapted from Charlotte Perkins Gilman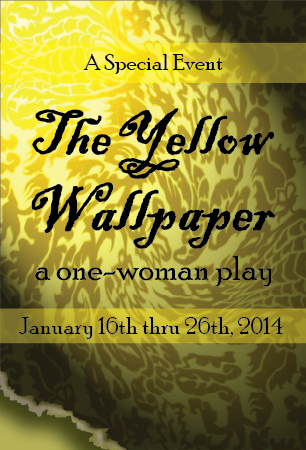 THE YELLOW WALLPAPER
By Greg Oliver Bodine
Adapted from the short story by Charlotte Perkins Gilman
What if the one person who has vowed to love you… for better or for worse… in sickness and in health… took you away… from everyone that you cherish? From everything that sustains you? In essence, the sum of yourself. Where would you go? What would you do?
THE YELLOW WALLPAPER tells the shocking story of one woman's isolation, obsession, and descent into madness.
SYNOPSIS: New England, 1891. Jane, a sensitive and imaginative woman, finds herself sequestered on a remote estate that her husband, a physician, has rented for the summer. She is forbidden to write, and must hide her journal entries as she recuperates from what he has diagnosed as a "temporary nervous depression" following the birth of their baby. Without anything or anyone to stimulate her, Jane becomes obsessed by the wallpaper in her bedroom as the effect of her domestic oppression and stifled creativity begins to take a toll on her sanity.
This solo adaptation of Charlotte Perkins Gilman's classic, short story was first produced at Manhattan Theatre Source in March 2009 before it toured area libraries and colleges for Women's History Month. Annalisa Loeffler returns to NYC in this one-woman tour de force written by Greg Oliver Bodine and directed DeLisa M. White.
Please join us!
Cast:
Featuring: Annalisa Loeffler* (member AEA)
Directed by DeLisa M. White† (member SDC)
Lighting Design by Lauren Parrish
Costume Design by Jeanette Aultz
Sound & Set Design by Greg Oliver Bodine
Production Stage Manager: Meghan O'Connor
Rehearsal Stage Manager: Marly Leighton
Assistant Stage Manager: Laura Darrell
Artistic Associate: Anne Fizzard
Production Managers: Greg Oliver Bodine/Anne Fizzard