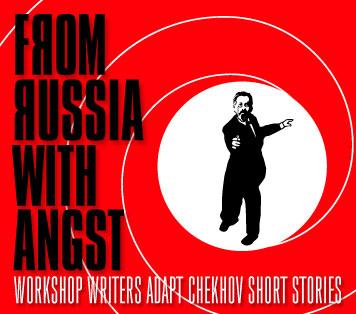 WorkShop One-Act Festival
In The Main Stage Theater
5 short stories by Anton Chekhov adapted by WorkShop playwrights:

Death of a Government Worker
by Jonathan Pereira
based on "Death of a Government Clerk"
directed by Katrin Hilbe
We'll Take a Cup of Kindness Yet
by Scott C. Sickles
based on "Misery"
directed by David Gautschy
Joy
by Robert Strozier
based on the story of the same name
directed by Elena Araoz
In Country
written & directed by Timothy Scott Harris
based on "In a Country House"
Misery, Apathy & Despair
by John McKinney
based on "An Artist's Story"
directed by Richard Kent Green
**SPECIAL "TALK BACK" AFTER THE SHOW FRIDAY, JUNE 19**
Directly after the performance Friday, June 19th, Tanya Mairs, an adjunct professor of Slavic literature at the New School will be our guest to talk about Chekhov and to answer questions on the subject. She has taught Chekhov for 20 years, and there will be discussion on Chekhov's life and his work. The talk-back will be moderated by Scott Sickles.
Cast:
Sutton Crawford
James Davies*
Jed Dickson*
Liz Forst
Joseph Franchini*
Dee Dee Friedman*
Stephen Girasuolo
Michael Gnat*
Carrie Edel Isaacman*
Noah Keen*
Carolinne Messihi
Mike Mihm*
David M. Pincus*
Amanda Sayle*
Tracy Shar
Sean Singer
Coordinating Producers: Carrie Edel Isaacman & Christina Romanello
Lighting Designer: Duane Pagano
Scenic Designer: John Scheffler
Sound & Projection Designer: David Schulder
Stage Manager: Jason Healy