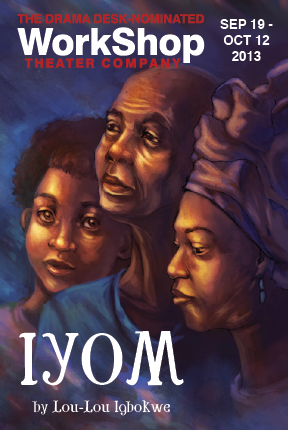 In The Main Stage Theater
Between the culture we inherit,
traditions we uphold, and the people we become...
There's magic."
Zaki, the only child of ambitious Nigerian immigrants, is constantly learning things the hard way. When her mysterious grandmother moves in, things take a turn for the magical. But even her newfound power doesn't help Zaki deal with the reality of trauma, tradition, and loss.
---
Vote For Iyom:
NY Innovative Theatre Awards!
After enjoying Iyom, please visit NYITAwards.com and cast your vote for the show and members of its creative team. After a quick registration with them, choose our show from the list and cast your vote in each of the many categories.
---
Cast:
Uzoma Emukah
Jude Evans
Sadah Ieisha
Laura E. Johnston*
Jacquelyn Revere
Monique A. Robinson
Donnell Smith
Julian A. Wicks
Augustus Wilson
*Member, Actors' Equity Association
Set Designer:
Colin McGurk
Lighting Designer:
Phil Kong
Associate Lighting Designer:
William Sammons
Sound Designer:
Nicholas Simone
Costume Designer:
Orli Nativ
Fight Choreographer:
Adam Alexander
Stage Manager:
Katie Selyanina
Assistant Stage Manager:
Dayna Richardson
Artistic Associate:
Anne Fizzard
Production Manager:
Aaron David Kapner
Assistant Production Managers:
Kristen Lazzarini • Clare Patterson