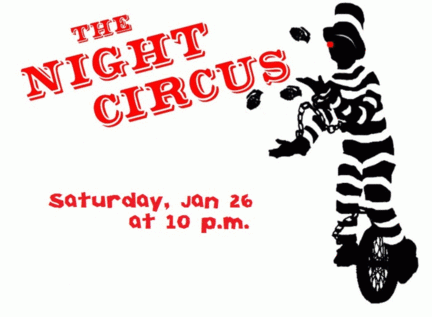 A WorkShop Late Night Event
In The Main Stage Theater
A spectacular evening of vaudeville entertainments
hosted by Mister and Missus Clown
Cast:
the comedy stylings of Rhonda Hansome
the arcane wizardry of Solomon the Peculiarist
mind-bending manipulation by juggling sensation Will Shaw
the poetical musings of "America's Comedic Sweetheart" Juliet Jeske
the music of Sir Richard Kent Green
and extraordinary exhibitions of skill and
astonishing acts of derring-do
by the Fool School Academy players:
Richard Kent "Crump" Green
Margo "Hambone" Hammond
Missus Cordelia Clown
Clare "Peppermint Patsy" Patterson
Stefania Diana "Curly Burly" Schramm
!!! ANYTHING CAN HAPPEN !!!
THERE WILL BE A DANCE PARTY AFTER THE SHOW