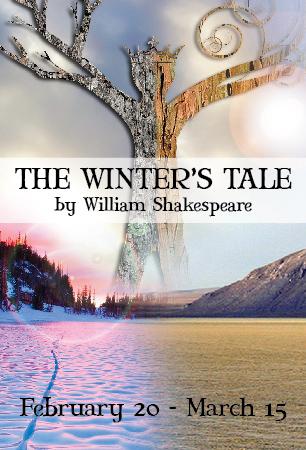 In The Main Stage Theater
"a wild dedication of yourselves
To undiscovered waters, undreamed shores..."
Leontes, King of Sicilia, has suspicions.
Has his beautiful Queen Hermione been unfaithful?
Has Leontes' dearest friend since childhood Polixenes betrayed him as well?
Yes. He is certain.
But what if he's wrong?
Both dark and light, stark and beautiful, harrowing and joyous, Shakespeare's genre-bender is filled with love, madness, romance, deception, nobility, skulduggery, mysticism, prophesy and, of course, a bear.
Cast:
James Armstrong*
Ethan Cadoff*
Tess Frazer
Annalisa Loeffler*
Clark Loeffler
Robert Meksin*
Jon-Michael Miller*
Jacob Callie Moore
Jeff Paul*
Laurie Schroeder*
Michael Selkirk*
Bill Tatum*
*Member, Actors' Equity Association
Set Design:
Michael Minahan
Costume Design:
Angela Harner
Lighting Design:
Kia Rogers
Sound Design:
Harrison Adams
Assistant Director:
Jenna Hoff
Stage Manager:
Melissa Farinelli
Assistant Stage Managers:
Ambar Aranga, Ally Tufenkjian
Production Manager:
Lauren Riddle
Artistic Associate:
Cecily Benjamin Hughes