By:
Michael Martin (Created by)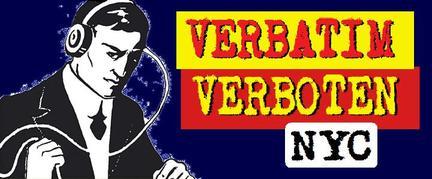 Verbatim Verboten usually occurs once a month. Show dates are updated regularly.
Click here for more Information and Tickets.
The Words You Were Never Meant To Hear...Uncensored!
An ever-changing revue of staged, word-for-word transcripts of noted people (and some ordinary folk) saying things they never meant for the public to hear: surveillance tapes, secretly recorded conversations, forgotten open mics, on-camera diatribes, released e-mails, private correspondence, etc.
Over three hundred such pieces, with more being added all the time...meaning no performance is like the one before.
The show has enjoyed extended successful runs in Chicago, Minneapolis, Seattle, New Orleans, and New York, earning praise like:
"A smartened-up National Enquirer." --TimeOut Chicago
"This show delivers the raw goods. Deeply funny and just plain disturbing." --The New York Observer
Jonathan Pereira, long time host of the Chicago run of Verbatim Verboten, hosts and directs this outrageous comedy that features a rotating cast++ of WorkShop Theater members, as well as a monthly guest host.
Drinks will be available throughout the evening.
Cast:
Dan Patrick Brady, Cecily Benjamin, KellyAnne Burns, Anne Fizzard, Richard Kent Green, Mike Smith Rivera and Tracy Shar.
++Cast members may change, week-to-week