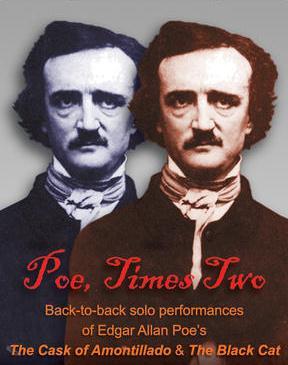 POE, TIMES TWO
Twin tales of mystery, murder... and mortar
A double-bill of short, one-man plays adapted from two classic stories of mystery and horror, "The Cask of Amontillado" and "The Black Cat", by Edgar Allan Poe. One actor. Two classic horror stories!
The Cask of Amontillado: a Venetian nobleman narrates a chilling tale of revenge involving his friend, Fortunato, against whom he has carried a grudge for an offense that is never fully explained -- an altogether sinister tale of one man's thirst for vengeance, born from arrogance and jealousy!
The Black Cat: a condemned man speaks from his prison cell on the night before he is to be executed for the brutal murder of his wife -- Poe's masterful study of domestic violence, guilt and one man's descent into madness … a journey that illustrates the ability of the human mind to observe and comment on its own destruction, without being able to stop it.
So join us for an evening of thrills and chills -- a must-see for Poe enthusiasts and fans of mystery and horror! A perfect treat for the Halloween season!
Cast:
Greg Oliver Bodine*
* Appearing courtesy of Actors Equity Association - an AEA Approved Showcase
Assistant Dir./Production Stage Manager: Stefania Diana Schramm
Costume Designer: Jeanette Aultz
Lighting Designer: Richard Kent Green
Sound Design: Charles Jeffreys